If you are caring for a parent, child, or sibling who is sick or disabled, you are providing caregiving services. There are several forms of caregiving ranging from formal to informal, and many family members do not consider themselves caretakers when they are helping a loved one. The position can be short term or long term, but either way, the demand for care can become overwhelming and stressful for the caregiver.
According to the Family Caregiver Alliance, about 44 million Americans provide 37 billion hours of unpaid "informal" care each year for adult family members and friends with chronic illnesses or conditions that prevent them from handling daily activities. 75% of caregiving support in the United States is provided by women.
Informal caregiving has an effect on our economy. In 2013 alone, the economic value of unpaid, informal caregiving was estimated at $470 billion. When caretakers are helping family, they typically cut back on work hours, use personal or vacation days, or leave their jobs completely. This can cause financial strains because of lost wages, loss of health insurance, and possibly even loss of social security benefits. When caregivers suffer, they can often have a difficult time dealing with the stress and accountability.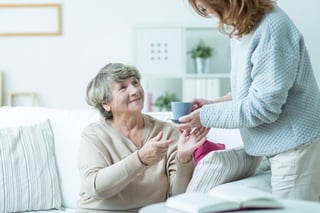 On the flip side, it is rewarding to share quality time with a loved one and to assist them in the daily activities they can no longer perform themselves. These activities may include bathing, managing medications or preparing meals. You never want to give up when one is in need; however there are other options to ease the stress on informal care.
Helpful tips on managing caregiver responsibility:
Understand the patient's condition; use all your resources to learn as much as you can about the disease at all its stages. Speak with the physician to make sure you understand the care plan and what to expect if it progresses. Being proactive can help you manage and prepare.
Encourage the patient to stay strong and mindful; they should not become completely dependent on you. Make sure they understand their current condition and the importance of following the plan of care.
Know your limits; you are only human; you can't do everything on your own. As much as you would like to be there all the time, it is probably not possible. You need to make sure you are taking care of yourself. If you're not in the right state of mind or health, it will become a disservice to the patient.
Seek help from others. It's ok to ask for help; you can reach out to other family members or seek professional care. Homecare agencies have trained staff that can help provide services in the patient's home. Depending on the kind of services (medical or non-medical), the appropriate staff will be assigned.
Family caregivers should make the best of their situation. Unfortunately, it's not easy, but you are not alone. Family caregiving is becoming very common. With the 65+ age group expected to double to 70 million people by 2030, family caregivers increasingly provide care for aging parents, siblings, and friends, most of whom have one or more chronic conditions and who wish to remain in their own homes and communities as they age.
When it's time to consider a Home Care Agency, you can follow these important steps:
Call the Home Care Agency and ask to speak with their Client Services Department Manager. Your call should be immediately responded to. If you're emailing the Home Care Agency, remember it is always best to start with one-to-one contact with the Home Care Agency Manager.
If possible, take the time to meet with the Home Care Agency in their office. The Home Care Agency's place of business will tell you a great deal about how they operate and if they are organized.
The initial Care Assessment, called a Home Care Plan of Care, and the initial visit with you in your home should always be completed at no cost to you. This is your opportunity to determine if the Home Care Agency is capable of meeting your needs and this is the Home Care Agency's opportunity to "win" your business. If your initial meeting with the Home Care Agency doesn't "feel" right, you probably need to continue interviewing potential service providers.
You need to see the Home Care Agency's Organization Chart. This will show the level of support the Agency is capable of providing to you and your family and will provide you with the names and contact information for critical backup support when your assigned Agency Representative is not available.
Most important is for the Home Care Agency to be responsive to your telephone calls and emails. Take the time to test their level of responsiveness before signing an agreement for services with them.
Regarding the Agreement for Services, these should be structured so that they can be canceled with 24 hours' notice. Home Care Agencies should understand that your needs can change very quickly and should be responsive to this request.
Your loved one's health and well-being are important. Whether using formal or informal care services, make sure you utilize all the resources available to ensure the best for you and your family. To learn more about in-home services provide by First Choice In-Home Care, please contact us today.