Client Services Department:
During an average year, our Client Services Department manages the care needs of over 4500 clients and supervises our staff of over 1900 Nursing Assistants, Home Care Aides and Registered Nurses. Our Client Services Team is well educated, dedicated and passionate about delivering the best possible in-home personal care experience possible.
Our Program Director, Program Manager, and Home Care Manager Team manage multiple teams comprised of Senior Case Managers and Case Managers. Each Case Manager is responsible for a client caseload of 50 to 65 clients where their responsibilities include, but are not limited to:
Assuring that each caregiver is eligible to provide care services (BCCU is documented, Mandatory Trainings are completed, DOH Credentials are completed in a timely manner, Nurse Delegation Training (if required) is completed and documented).
Placing a well-matched caregiver with the client.
Ensuring that each caregiver has been properly oriented to the client's Plan of Care.
Communicating and reporting all necessary and required information to assigned Case Management.
Communicating with the client and the assigned caregivers to verify services are being provided as requested and as documented in the Plan of Care.
Arranging for substitute caregivers as necessary to assure client health and safety.
Being available 24 hours per day / 7 days per week to address and resolve any client concerns.
You may also contact our Program Manager and Home Care Managers at any time by calling our Toll Free Telephone Number at 1-877-747-5090.
Payroll Department:
Our Payroll Department reviews all service authorizations and completes our payroll processes. This Department is managed by our Finance Manager, Casey Lord. Casey manages our Payroll Coordinators who review and audit all daily electronic timekeeping functions, coordinate all payroll requirements and review all service authorizations. Our Payroll Coordinators are assigned Client caseloads by Client Last Name, and along with Casey, are available to answer any fiscal payroll questions you may have.
Human Resources and Training Departments: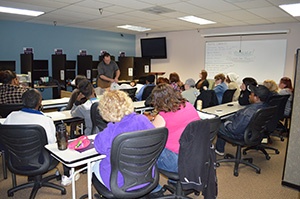 Our Human Resources Department is managed by TJ Lord and consists of a team of six highly capable and energetic staff members. Typically, our Human Resource staff members do not interact with Case Resource Managers; however, this resourceful team, each of whom previously served as a Direct Care Supervisor, solves many immediate caregiver placement issues on a daily basis and may be able to resolve an immediate need you may have. Additionally, in the event you would like to refer a Caregiver Candidate to us, please contact our Human Resources Department and we'll begin the process of finding employment for them.
Our Training Department is managed by our Training Director, Edward Alhart. At First Choice In-Home Care, we recognize the daily challenges faced by families and truly understand the critical importance of having a trusted and qualified caregiver to provide the assistance they need. To accomplish our goal of providing exceptional care, we have created an on-site, state-of-the-art Caregiver Training Center to provide our caregivers with the training they need to ensure the health, wellness and safety of those we serve. All of our Nursing Assistants and Home Care Aides are competency tested and credentialed by the Department of Health.