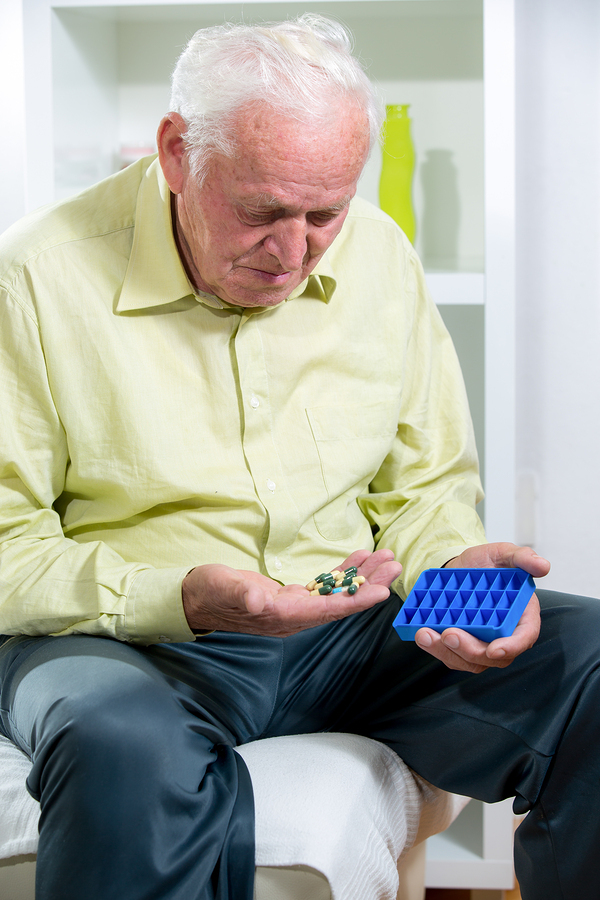 How many medications does your elderly loved one take every week? According to Merck Manual's "Aging and Drugs", in the group of people who are age 65 years or older, 90 percent take at least 1 drug per week, more than 40 percent take at least 5 different drugs per week, and 12 percent take 10 or more drugs per week.
Causes of Medication Risks in Seniors
Drug related problems are more common among the elderly and include:
drug ineffectiveness
adverse drug effects
over- or under-dosage
drug interactions
Why are the elderly at greater risk than the general population? There are a number of significant factors that play a part. Here are a few of those that may lead to medication issues for your senior:
The number of medications taken increases the likelihood of potentially dangerous drug interactions.
Elderly patients may be more susceptible to adverse drug reactions because of the way medications are absorbed. For instance, drugs that dissolve in water may reach higher concentrations in the elderly, because the amount of water in the body decreases as one ages. Likewise, drugs typically absorbed in fatty tissues may reach higher concentrations in the elderly, because as people age, the amount of fat tissue in their bodies decreases.
The body breaks down drugs and excretes them through the kidneys and metabolizes them through the liver. This process slows considerably as people age, making it more likely that hazard levels of drugs can build up in an elderly patient's body.
Common side effects of some medications are intensified among seniors. For instance, older adults often are more likely to become confused, dizzy, or light-headed when taking certain drugs than are their younger counterparts.
Senior Drug Risks and Medical Conditions
Reporting on the results of a recent study, WebMD's "Widely Used Heartburn Drugs Tied to Dementia Risks" notes that German researchers found people age 75 or older who regularly take popular heartburn medications called proton pump inhibitors (like Prilosec, Nexium, and Prevacid) had a 44 percent increased risk of dementia, compared with seniors not using the drugs.
While this study was unable to find a specific link to explain exactly why the incidence of dementia increased among PPI users, it clearly shows that a connection does exist between heartburn medications and dementia in some patients.
This is not the only study that shows a connection between certain drugs and dementia or other conditions in the elderly. For instance, a study published in JAMA Internal Medicine revealed a possible link between dementia and drugs like diphenhydramine (Benadryl), chlorpheniramine, oxybutynin, tolterodine, and tricyclic antidepressants.
Some drugs like antidepressants, antihistamines, and antipsychotics have anticholinergic effects which intensify as patients age. These effects include:
confusion
blurred vision
dry mouth
constipation
loss of balance
difficulty starting to urinate
The Role of Forgetfulness in Senior Medication Issues
In addition to the aforementioned drug interaction issues that many seniors face, another challenge is presented when seniors have declining mental ability. In many cases, even if physicians and pharmacists are vigilant to ensure that the prescription drugs taken by seniors are safe and relatively unlikely to cause potential drug interactions, it is still possible for seniors to misuse prescribed drugs.
The Merck Manual states: "Not following a doctor's directions for taking a drug (called noncompliance or nonadherence) can be risky. Old age alone does not make people less likely to take drugs as directed. However, up to half of older people do not take drugs as directed. Not taking a drug, taking too little, or taking too much can cause problems. Taking less of a drug because it has side effects may seem reasonable, but people should talk to a doctor before they make any changes in the way they take a drug."
Due to the complexity of some drug regimens for the elderly as well as the increasing possibility for memory impairment as people age, it is important to put into place a system whereby drug regimen compliance is verified in some way.
For instance, having a visual medication reminder schedule may be helpful. Using clearly labelled medication organizers may also provide important visual cues and reminders to your loved one about the proper dosages and times for taking medications.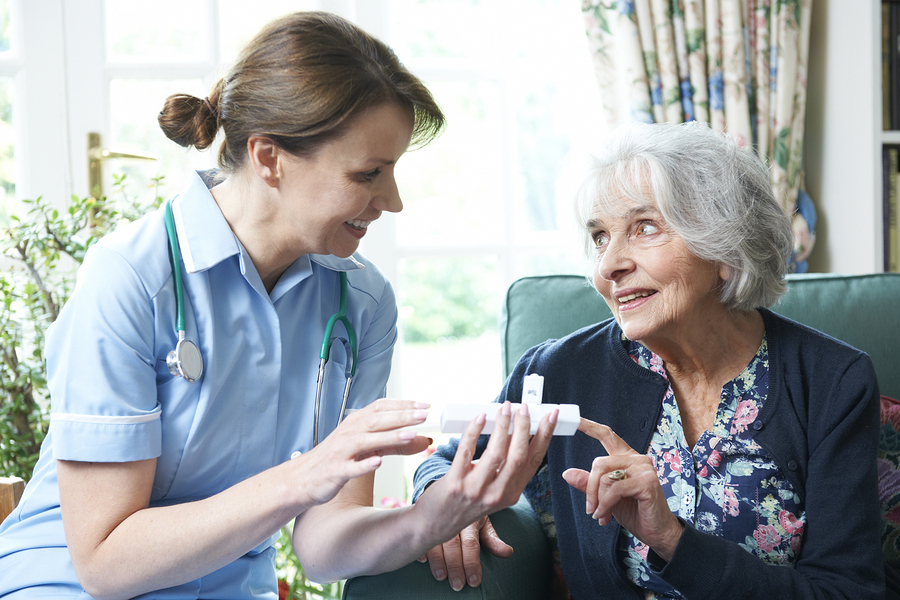 A home care professional can provide needed medication support for your loved one.
Many caregivers and seniors find peace of mind concerning the proper use of medications by availing themselves of the service of home care professionals. A home care professional can help your loved one monitor both the dosage and timing of medications to ensure compliance with drug regimens as prescribed by physicians.
Additionally, home care workers can pick up prescriptions for your loved one, thereby ensuring that he or she never misses a needed dose of medication. Helping your loved one take medication exactly as prescribed also includes things like ensuring that your loved one eats properly before taking a medication that must be taken with food, or drinks an appropriate amount of water as indicated on the prescription instructions from a physician. Home care workers can help your loved one to do both of these things, since they can provide meal preparation and observe whether your loved one's food and fluid intake is sufficient.
If you believe that your senior could benefit from this kind of medication support, contact us today to arrange a consultation with a professional home care worker who will be more than happy to render medication assistance for your loved one.