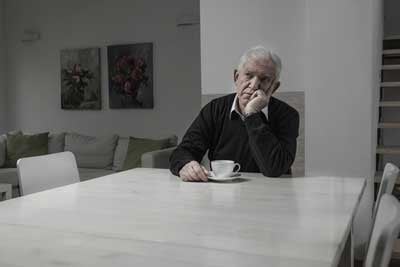 Social isolation, defined loosely as the absence of social interactions, contacts, and relationships with friends and family, with neighbors, or with society at large, is a serious issue for many older adults.
Andrew Steptoe, lead researcher of a study on the effects of social isolation on health outcomes among the elderly, states: "Social contact is a fundamental aspect of human existence. The scientific evidence is that being socially isolated is probably bad for your health, and may lead to the development of serious illness and a reduced life span."
The study found that the most socially isolated subjects had a 26 percent greater risk of dying than their socially connected counterparts, even when sex, age, and other factors commonly linked to survival were taken into account.
Risk Factors for Social Isolation
There are a variety of risk factors which may contribute to social isolation for older adults. Some of the most common are:
the death of a spouse
mobility issues that interfere with attendance of social gatherings
incontinence issues that cause embarrassment and withdrawal from social interaction
hearing or vision loss
illness or injury
loss of close friends due to age-related issues
inability to drive independently
As mental and physical health decline, some seniors may withdraw from social interaction intentionally. However, for many seniors, social isolation occurs as a consequence of situations over which they have little or no control.
In either case, there are abundant reasons to address the issue of social isolation to improve the mental, emotional, and physical health of your loved one.
Effects of Social Isolation
The article "The Impact of Social Isolation on Seniors' Quality of Life and Well-Being" lists several troubling effects of social isolation for seniors, including:
reduced social skills
increased risk of elder abuse
increased risk of negative health behaviors like smoking, drinking, poor eating habits, and sedentary lifestyle
increased risk of depression and suicide
shortened lifespan
Wired.com's "The Dangers of Social Isolation" observes: "Older people who have few social ties may not be getting the care they need. No one is urging them to eat right or take their medicine, and in a crisis no one is there to help."
Though you may be doing all that you can do to keep your senior loved one engaged and socially active, sometimes his or her interaction with you is simply not enough to overcome feelings of social isolation. Much like rearing a child, helping a senior to overcome social isolation sometimes takes a village.
How Home Care Workers Can Help
This is where home care workers can offer great benefit. By addressing many of the root causes of social isolation for your loved one, home care workers can encourage and support more healthy social interaction in practical ways.
For instance, if transportation or mobility issues are a problem, home care workers can arrange for transport and accompany your loved one to social engagements, providing help and support as needed.
By providing help with incontinence issues, an in-home care worker can give your senior peace of mind and help him or her to avoid embarrassing accidents when out and about in the community.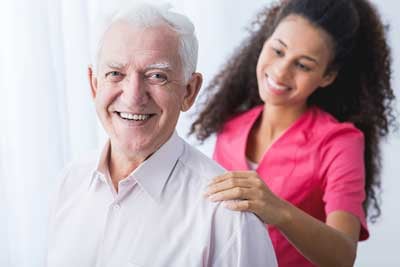 A home care worker can provide support and companionship
to your loved one, lessening feelings of social isolation.
Of course, even if your loved one is completely homebound, having a home care worker come to the home will provide your senior with a fresh face and a new person with which to interact. In many cases, home care workers become closely attached to seniors for whom they care, taking time with each visit to sit and talk with your loved one as a trusted companion.
The Takeaway
Social isolation need not be a given for your loved one as he or she ages. By addressing some of the risk factors that lead to social isolation early, you can do much to ensure your loved one's mental and physical health and well-being.
Home care workers can provide an added protection against social isolation by supporting the independence of your senior for as long as possible, spending time talking with your senior on each visit, and arranging healthy and safe outings for your loved one as appropriate. To find a senior care in-home worker to help keep your loved one socially connected, contact us today.