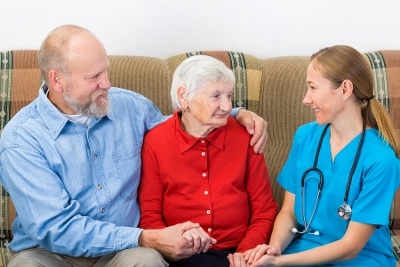 Caring for someone you love who suffers from Alzheimer's is a difficult and sometimes heartbreaking task. Yet, for many caregivers and care recipients dealing with this issue, the thought of moving a loved one from a home he or she has loved for many years is undesirable. What can you do to help your senior stay at home as long as possible, while still ensuring a high quality of care?
Making the Home Environment Safe
In order to ensure the safety of your loved one, it is essential to consider the home environment in which he or she lives. Are there areas of the home that will be unsafe as memory loss or dementia increases?
The Alzheimer's Association offers these tips to make the home environment of your loved one as safe as possible:
Lock or disguise hazardous areas.
Be prepared for emergencies, with supplies and phone numbers readily available at all times.
Install smoke alarms, carbon dioxide detectors, and fire extinguishers in strategic places.
Install locks out of sight, making it less likely that your loved one can wander away from home undetected.
Have adequate lighting in all walkways and remove tripping hazards.
Secure all medications.
Remove any weapons.
Set thermometers for the home and the water heater correctly to prevent problems with scalding or uncomfortable temperatures.
The article "Help Alzheimer's Patients Remain Independent Longer" reports on a bit of technology that may help you make your loved one's home safer. An app called "The Dementia Friendly Home" has been developed to help users eliminate problem areas in the patient's own home. The suggestions made by the app help caretakers make adaptations that will allow Alzheimer's and dementia patients to stay in their homes and communities longer, without putting them at risk of accidents or injuries.
According to the article, within the app, users can "navigate through virtual before-and-after spaces. Question marks are placed in key locations within the "before" spaces, and users can tap on these question marks to get more information about how those areas present a concern for patients with Alzheimer's and dementia."
Armed with this information, caregivers can make adjustments to ensure the best possible environment for senior safety.
In Home Healthcare Provides Added Support
As Alzheimer's progresses, many families find it necessary to seek out additional support to meet the needs of their loved one. In-home healthcare can provide such support. Some things that in-home healthcare offer are:
Companion services
Personal care services
Homemaker services
Skilled nursing care
Respite care
The Benefits of In Home Healthcare
Perhaps the most important benefit in-home healthcare provides is that it enables your loved one to stay in a familiar, comfortable environment for as long as possible. Alzheimer's patients often suffer from confusion due to memory loss, and that confusion can be exacerbated when the patient is in unfamiliar surroundings. By providing in home healthcare for your loved one, you may lessen the stress caused by confusion.
Kathy Black, PhD, MSW, and a 30-year veteran nurse, social worker and geriatric case manager, highlights a psychological benefit of helping a loved one stay at home as long as possible, stating: "You simply cannot put a price on being able to remain in the home ... especially those who have lived in their homes for many, many years. But even for others who do not have ties to a particular residence, the 'sentiment of home' is significant and defining for most people and it signifies independence to many."
This psychological need to feel independent and in control of one's life is common to all humans, and is a source of great concern for those suffering with Alzheimer's.
A third benefit in-home healthcare provides is respite care, which enables family caregivers to have time to rest and reduce their stress levels. As Alzheimer's progresses, it is often necessary to provide 24/7 assistance to your loved one, and respite care enables you to do that while still caring for your own needs in the process.
To find out more about the many benefits of in-home healthcare and to discuss the needs of your loved one with professionals trained to handle the issues related to Alzheimer's and senior care, contact us today and let us help you help your loved one.