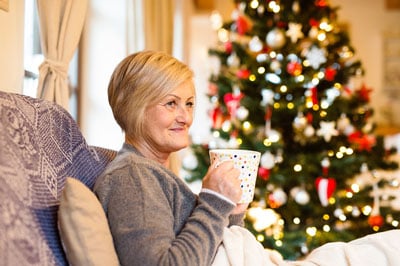 For many families, the holiday season is a festive time filled with busy days and beloved traditions. But for some, the holidays can be a time of loneliness and even depression. Sadly, seniors often find the holidays to be one of most difficult times of the year.

Why Seniors May Experience the "Holiday Blues"
Psychotherapist Joyce Marter, LCPC, points out several reasons for seniors to feel especially lonely around the holidays. Perhaps your patient is grieving for a beloved mate who has died, or perhaps he or she is having trouble adjusting to physical or mental decline that will alter the pattern of the way holidays have been traditionally celebrated in the family.

For instance, perhaps an older woman is no longer able to prepare the holiday spread that once brought her family from miles around to sit at her table. Or maybe a widower is missing the way his wife once trimmed the tree and helped him choose the perfect present for his children and grandchildren.

Checking for Signs of Senior Loneliness
Whatever the reason may be, loneliness and depression can easily set in for seniors around the holidays. Homecare providers should be alert to signs of depression in their patients during this holiday season. Here are some signs that something may be amiss:
Lack of interest in things that were once pleasurable
Weight changes or loss of appetite
Lack of motivation or energy
Sleep disturbances like insomnia, or changes in the normal sleep pattern of the senior
Neglecting personal care
Persistent sadness
Frequent tearfulness

How Homecare Providers Can Help
If you detect any of these symptoms in your client, there are some actions you can take to help him or her to enjoy the holidays as much as possible. Here are a few suggestions you might try:

1) Talk with your client about holidays past.
While you might think that revisiting past traditions will only make your client feel worse, the opposite is actually true. Talking about pleasant memories will bring comfort to your senior. An additional benefit is that you may get some clues about which holiday traditions are most important to your patient. Armed with that information, you may be able to schedule activities that will be of special significance to him or her.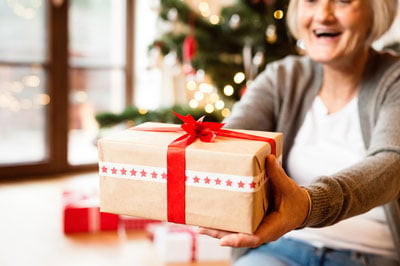 2) Help with holiday activities.
One source of discomfort for seniors during the holiday season is that they may be unable to handle all the activities that go into preparing for the holidays. As a homecare provider, you can help with this. You might offer to:
Do some light holiday shopping with your client.
Help him or her write and send Christmas cards.
Help your client wrap presents for his or her family and friends.
Bake a beloved holiday treat from a family recipe.
Take your patient on a driving tour of neighborhood decorations.
Help your client dress for a family holiday gathering.

3) Encourage your client to get adequate rest.
For seniors who are determined to take part in Christmas shopping, social activities, and family gatherings during the holidays, it may be more physically taxing than they at first realize. Encourage your client to get adequate rest during the holiday season so that he or she does not become exhausted, sick, or injured. Plan some quiet activities such as reading a holiday story or watching a holiday-themed movie.

4) Handle the housekeeping.
For many families, the holidays are the only time of year that the entire family can get together. If your client's family members plan to visit during this time, you can relieve some of the stress for your patient by seeing that his or her home is clean and neat when company arrives.

Of course, the best gift that you can give to your client all year long is your genuine care and concern. Being there for your patients, no matter what the time of year, will help them to thrive and enjoy life as much as possible. For more tips about how to provide excellent care to those in your charge, contact us today.