Baby Boomers, now entering headlong into their retirement years, are even more intent on aging in place than were previous generations. Huffington reports: "The old standard of retiring and shuffling off to a retirement community is being re-written by baby boomers who want to enjoy their homes, embrace their communities and age in place as long as they can."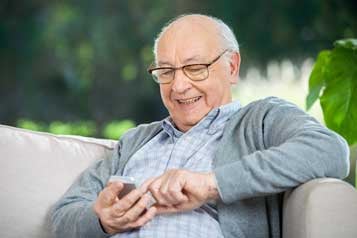 The Benefits of Homecare
Seniors with this mindset find home health care to be an increasingly attractive option. Home health care enables seniors to:
remain in familiar and comfortable environments
maintain a sense of control and autonomy
maintain cherished ties to nearby family and community
access highly personalized care from professional care providers
In addition to providing seniors assistance with activities of daily living, homecare providers can also help seniors with household chores, shopping, transportation, and medication support. Working with a homecare provider provides peace of mind for seniors and their families by assuring all involved in caregiving that the needs of seniors are being consistently and competently met.
Making Your Loved One's Home a Safe Haven
In order to ensure that your loved one is safe at home, it may be necessary to make certain modifications or renovations. AARP provides a home safety checklist that is designed to help you assess your loved one's home and make the necessary modifications to ensure safety.
Some common safety modifications may include things such as:
installing more lighting to accommodate failing eyesight
installing grab bars in the bathroom area to assist seniors with getting in and out of the shower or tub
using non-skid padding under throw rugs to help prevent falls
Homecare workers can also help keep your loved one's home safe. For instance, by providing regular housekeeping services, homecare workers help eliminate clutter, thereby reducing tripping hazards.
Additionally, homecare workers can care for the chore of meal preparation and clean-up, thus reducing the possibility of burn injuries for your senior.
Technological Innovations for Aging in Place
In addition to the aid of professional homecare workers, innovative technology solutions are playing a significant role in helping seniors to age in place. Here are a few handy technologies to assist your loved one:
Sensor Systems: There are a variety of sensor systems now available to help monitor senior activity in the home. While some of the sensor systems are installed in convenient areas around the home, others are designed as wearables.
Such sensors can detect things like falls, unusual inactivity, and even things like missed meals or medications. In concert with the efforts of homecare workers, sensor systems allow family caregivers a 24/7 view of their loved one's home situation without becoming an intrusion.
GPS: GPS technology can help locate seniors in case of emergency. Additionally, there are even GPS devices that help sometimes forgetful seniors to locate commonly lost items like eyeglasses or keys.
Health Monitoring Tools: An increasing number of mobile apps make health monitoring a simpler process. There are currently monitors to measure glucose, blood pressure, heart rate, and sleep patterns. These monitors can sync to the phones of seniors and their caregivers, providing an additional layer of support for appropriate treatment of existing health issues.
Using All Available Resources
The key to successful aging in place is to utilize all available tools to make your loved one as safe and comfortable as possible at home. Modifications to the home may be required. Additionally, using available technologies that support aging in place may help seniors remain at home for longer.
Combining the help of a professional homecare worker with
available technologies that support aging in place will improve
the quality of life for your loved one.
Finding a suitable homecare agency is also a great way to ensure your senior's continued health and safety at home. To find the perfect homecare provider for your senior, contact us today. We look forward to partnering with you with the goal of keeping your loved one in comfort and security at home.